Initiative
Steps initiated by National Mission for Empowerment of Women Mission Team Govt. of India was by organising the 1st Regional Conference on achieving Women Empowerment through convergence at Shillong on 7th – 8th February, 2012 which is very appropriate as during that period the State Resource Centre for Women was on its anvil stage for implementation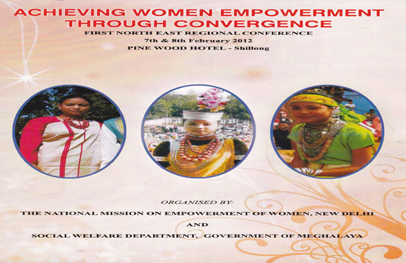 By holding the Regional Conference the Mission Team were able to get the ground reality of issues on Women Empowerment that is distinct from the rest of India. It was therefore, imperative to give a greater thrust on Women Empowerment and Convergence and to start with the North East Region that is remote and unique.
The Conference was organized around three main areas:
Looking Back – Sharing of Experiences on Achievements, Issues and Challenges.
Looking Beyond – Thematic approach: Presentation & Plenary Discussion and Convergence Efforts.
Looking Forward – Wrap up and cull out Important Recommendations for follow up.
News
At Present there is no content available for this page, once content will be available would be updated.